No, "Puzzle Platformer" isn't the name of the game.  I just haven't come up with a title yet.

Alrighty. So here we are again, another "Weekly Game Update" series begins.  Before I get into the new game, however, let me just tie up some loose ends:
Defective
I haven't touched Defective since the last Weekly Game Update post.  It's not a big deal, being that the game is practically finished.  However, I have found a musician who's composing some pretty awesome sounding tracks for the game.  I've heard a few demo's of what he's working on and I'm really excited about it.
I'm still saying a late-October release, but I'll definitely be cutting it close.  We'll see.  In the meantime, I'll be working on a new project.
MK Fail Videos
I just came across this guy's Youtube channel and his Mortal Kombat fail videos.  I haven't laughed this hard in a while.  Here's my favorite one:
Actual Game Updates
Alright, that's it I think.  Now, about this new game of mine, well, there's really not much to say yet.
It's going to be a different type of project for me in a few ways, and I'm definitely excited about it.  It's going to be a real challenge getting this game completed how I imagine it, but to be honest, development shouldn't take me as long as my past two games have taken me.
There will be more information in next week's "Weekly Game Update" post, mainly because nothing is 100% nailed down just yet.  Give me a week to play around with ideas.
In the meantime, stare at this screenshot.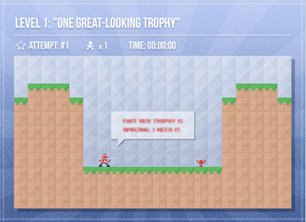 I made it small just to make you upset.  Deal with it.