"Puzzle Platformer" still isn't the name of the game.  I'm still having trouble in the title department.

General stuff
Alright, so I'm starting to iron out the details here – it's looking like this project will actually live to see completion, that's always a good thing.  I spent the majority of the week (and probably will spend the majority of next week) trying to get the graphics to look right.  I'm getting close, but I'm not sure if I'm there yet.  Here's a first glimpse at what everything will look like: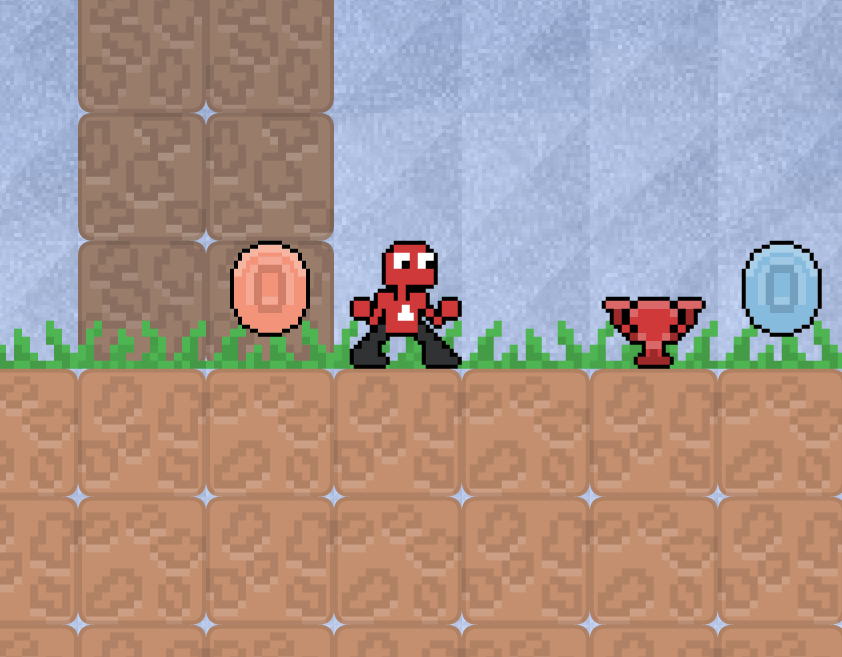 Isn't he just the cutest red thing you ever did see?
Anyway, I still haven't said much about what the actual gameplay will entail, but I'll save that for a later post.  I will say, however, that one big feature (and what I'm hoping will make this game really special) will be a full-blown level editor.  This will enable players to design their own puzzles and share them via an encoded string or through something like Playtomic's level sharing API.  More on that as I get to it, though.
Accomplished
Lot's of designing and planning.
Animated the character's sprites.
Many initial bugs squashed.
To do
Add more coins (powerups), I have two more in mind.
Finish designing the tiles for the "grassy" theme.
Design three other themes (space, underground cave, ____ ).
Implement a second player. (LOL WUT)
So that's about it.  Hoping I can get enough done so I can get started on building the level editor later this week – that might be too much of a stretch though, we'll see.
In Defective news, nothing new.  My musician is still working on the tracks, and they're coming along great.  I suspect I'll be able to start implementing some of them into the game sometime this week.  I'd love to have the game up for sponsorship sometime during the first week of October, but we'll see.
Okay bye.