Two "Weekly Game Update" posts on time!  I'm on a friggen roll!

General Stuff:
Alright, let's see what happened this week.  I didn't do much.  I don't know what happened honestly.  I mean, I started the week off strong by completely re-doing the HUD (and may I say I think I was able to make it look very shnazzy.)  However, I just started losing day after day by procrastinating.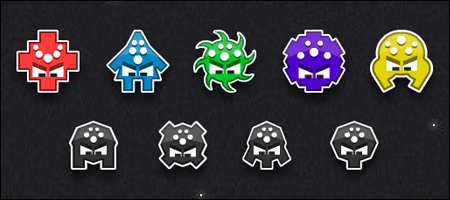 On Friday I got back into it though.  And by "got back into it," I mean I decided to start the game completely over.  New art, new Project file, the whole nine yards.  What am I trying to accomplish from this?  Well first off, I want to approach the game with a different art style, and unlike my previous artwork, I instantly have a really good vibe with this version.  I'm starting the code over for two reasons – one, there's not much to "scrap," so it's not a big deal.  Two, now that I have a really good idea how the game is going to function, I feel by starting over I can keep the code very clean and optimized.
Accomplished:
Started the game development process over :).
Drew the art for all of the enemies and the player.
To Do:
Program basic movement and shooting.
Optimize the particle system class and re-add it to the game.
Videos!
Yesterday, I recorded myself drawing the art for all of the enemies and uploaded it to the Youtubes.  Enjoy.
Alright, I'm done.  I'm actually writing this post the night before and right now my back aches, my stomach is upset, and I feel tired.  WHAT DEDICATION.