So, Trophiends was released about a week ago now.  Practically the day it was released, Playtomic's servers took a dump and never recovered.  For those of you who don't know, Playtomic offers API's for tracking game performance as well as other services such as level sharing (which Trophiends utilized).  It seems that they're currently going under financial issues and to be honest, I don't see them being around much longer.  It sucks, since they had so much potential.  They were always troubled with finicky up-time, though.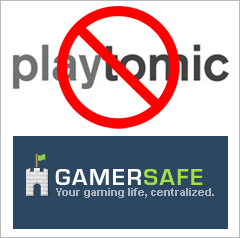 What does that mean?  Well, no one who created levels with the built-in level editor could save them.  This sucked.
The past day or two I spent my time swapping out Playtomic for GamerSafe's LevelVault.  It was a very smooth transition besides one bug I couldn't work out (level thumbnails wouldn't save properly to the server).  I eventually worked it out with the aid of the FGL community and as of right now, the new version of Trophiends with a working level-sharing system is live.  Go try it out and be one of the first to have your levels saved to the game.
For anyone wondering, I believe Trophiends will be released to NewGrounds / Kongregate sometime early next week.  From there it'll make its way around the internet and hopefully get viral.
Weapons on Wheels 2
Sorry to say, but I haven't touched Weapons on Wheels 2 in the past few days.  By no means does this mean the game is in trouble, I've just been busy with other things.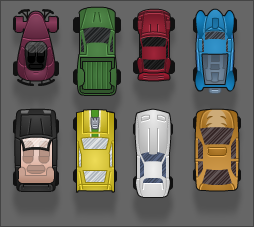 Here's a screenshot for you guys though, these were going to be the eight cars featured in the game (they would have more than likely gone under some additional tweaking in design as the game went on).  I'm using the past tense here because as of the past week I've very much made up my mind to have 3D models for the cars.
Now, the game will be in 2D, that's for sure, but I'd like to have 3D models of the cars made up (in Blender) and then utilizing a tool like Swift3D, convert them into 2D for use in the game.  This will allow me to have some fun with the cars during gameplay.  (For example, if your car hits a mine, it might flip and bounce around a bit, in a cartoony-fashion.)
Plus I'd be able to use the 3D models in other ares too, the car-select screen, etc…
There's one problem with this, though –  I've never created a 3D model in my life.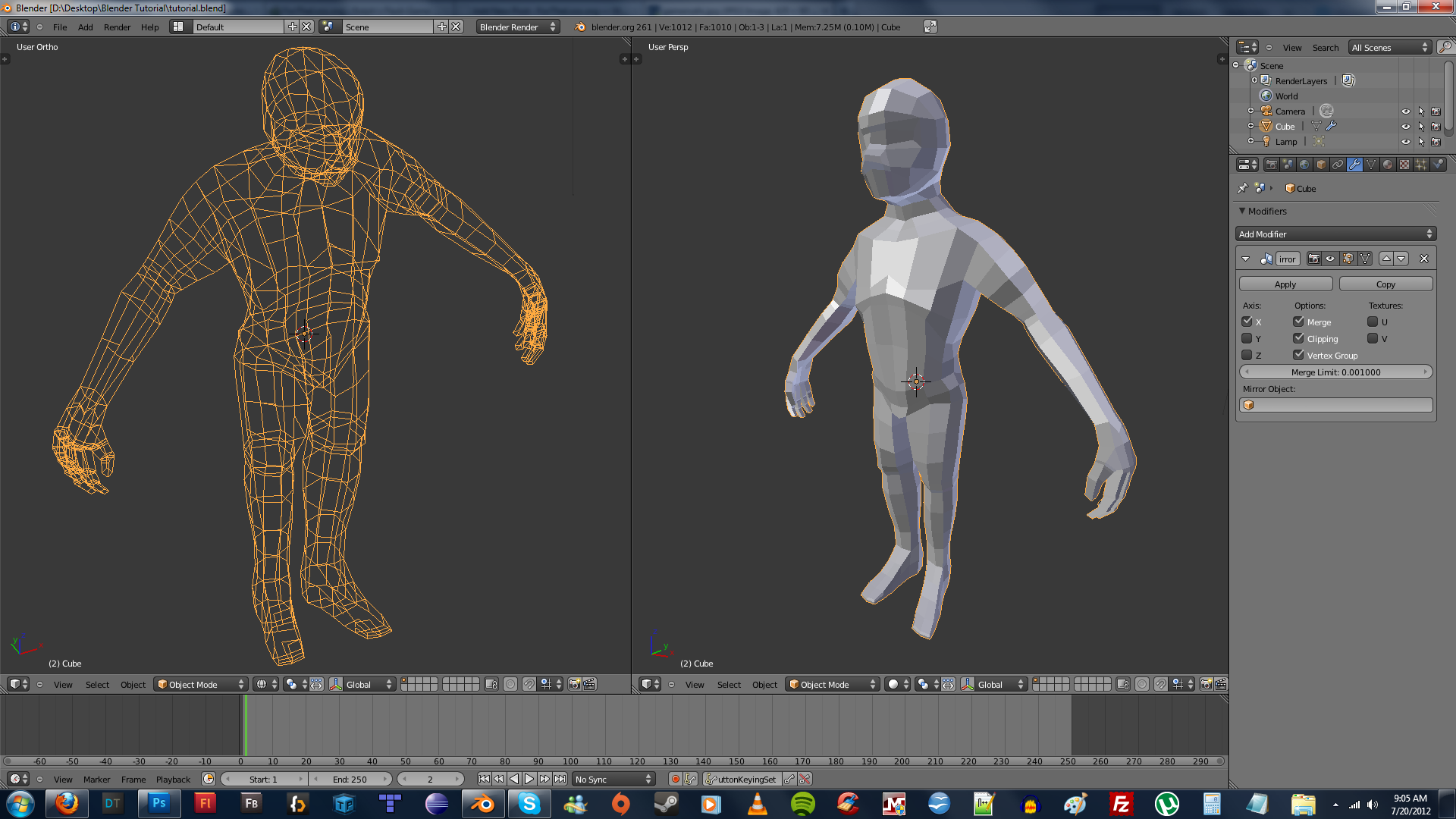 Learning how to design 3D models has always been something I wanted to do.  Not only does it look like fun as well as open up many new possibilities, it's not a bad thing to have on your resume.  As a result, I've finally gotten a grip and started taking this learning thing seriously.  There are tons of incredible tutorials for this type of thing all over the internet (CGTuts and BlenderCookie.com just to name two).  I've already followed on of them the other day to create the model in the screenshot to the right, my first 3D model ever.  (It's nothing new, plus I'm sure there are many problems – the fingers are creepy-looking when its rendered, but it's not a bad start.)
Alright, that's enough typing for me.  Just wanted to give an update on what's going on, like I said, I'll be making at least one post per week, like usual.