Every time I try to export a swf, Flash decides to pull a LOL and after compiling the SWF for the usual 20 or so seconds, I get this lovely message: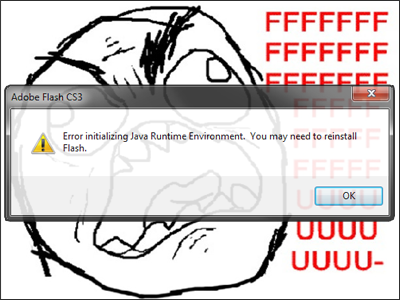 I *think* the reason behind this is because the .FLA file is getting too big.  I've just finished importing all of the levels (PNG's, made in Photoshop) and now the filesize is 315MB.  (The most recent working swf I have is only 13MB, so, relax.)
I think that because this started happening right after I started importing all of the huge image files into Flash.  I tried to verify this by deleting a bunch of them and then trying to export, but it still didn't work.
I dunno. Really running out of ideas here.
Inb4 "did you reinstall Flash, Ralph?"  From what I've read online, that's never the answer.  In fact, from what I've read online, no one knows the goddamn answer.
FFFFUUUUUUUUUUUU-
More updates as updates occur.