Hey guys, update time!
Well, while this is an update, there's not much to it though.  The past week or two have been pretty messy in terms of my daily routine / schedule – so not much is getting done in any department.  However, I have started buckling down and getting some work done in the development of Space Fruit.
Yes, Space Fruit.  If Paul hadn't fallen off the face of the Earth (again) I'd expect a witty retort from him as the number one comment to this game title.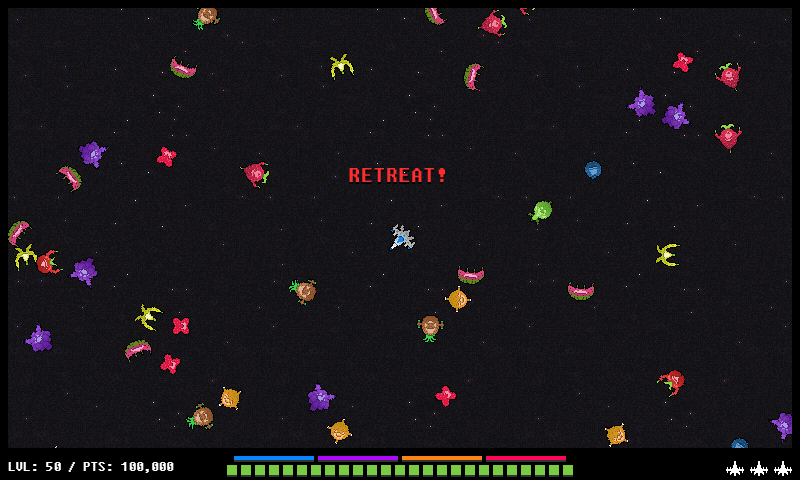 As you can see from the screenshot, however, the name is justifiable.  It is a game set in space, and there are what appear to be fruits flying around – thus, Space Fruit.
Right now I have all of the ships, bullets, and backgrounds drawn up and ready to go.  I'm now stuck in a period of advancing steps in development and then falling back three of four.  It sucks and really slows things down, but its necessary to change / scrap things when they become either too much of a pain to implement / control or if they're just plain not fun.
I'm taking a break from the programming and designing the HUD elements in Photoshop (what you see in the screenshot).  I'm liking the layout and design so far, and with a bit more tweaking I'll be ready to start implementing it tomorrow.
I expect things to continue to move along slowly for a little while longer as I continue to grasp the basics of not only a different programming language, but of a different gaming platform.  Oh, and not to mention OpenGL.
In other news, I'm beginning work on the second episode of Paranoia.  Cool, huh?