Alright, so I felt for my first real post here I should start off by giving some information on the game I'm working on.  I'm not going to give much, but I will let you guys in on some things, including a screenshot: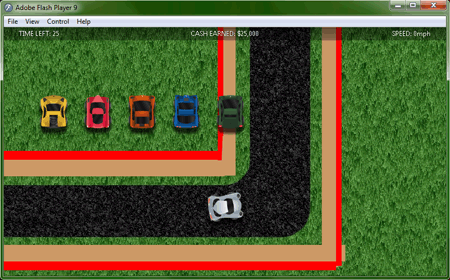 Click for larger version.
Of course what I have pictured is the current test level.  What I mean by that is that you'll never actually see this in the game, it's just for me.
If you haven't guessed from the screenshot yet, this is going to be a top down racing game.  In the image above you can see the 6 cars that I designed that will be used in the game.  You will be able to choose which you want to control at the start of the game.  Also, if you're wondering, the brown/red areas are just temporary dirt/walls that I'm currently working on.
So yeah, that's all I'm going to tell you for now.  They'll be more news in an upcoming post more focused on the actual gameplay.  To be honest, this whole game is a tribute to a game I played (still do) when I was younger.  Seriously, +10 cool points to whoever can guess what that game is.