Hey there.  So I figured I'd make a post this weekend summing up what's going on with what and what's happened when. (What?)
Defective
It'll be released eventually, I've started the process of getting it more attention and I'm thinking it will be sold sometime this month.  On Monday or Tuesday I'm going to be sending out emails to potential sponsors about Trophiends, so I'll slip a little note about Defective in there too.  If you're a sponsor and have a sponsor account on FlashGameLicense, go check it out here.
Trophiends
In case you haven't heard, Trophiends went up for sale on FlashGameLicense this week.  I'm really happy to see it got an editor's rating of 8, which from my understanding is really great (7 or 7.5 is the norm).  What does this mean?  Well, nothing really.  I'm sure it helps peak sponsor's interest a little, but that's probably about it.
Anyway, not only did it go up for sale, it already has it's first bid.  I'm confident this game will go fast and will be my most successful yet.
Check out this lame trailer I put together for it in Windows Live Movie Maker.
Miscellaneous Things…
My old game, Christmas Defense, raked in $68 in ad revenue over the Christmas season, not bad for a year-old game.  You'd be surprised that that game appears to make roughly $15 – $20 a month year-round from the CPMStar ads alone.  Pretty good for a Christmas game, huh?
I know I said back in this post that I wanted to give ForTheLoss.org a redesign over my winter break from college.  Well, since I go back on Wednesday, I doubt this is going to happen.  There are two reasons why I want this redesign to happen – to present all of my completed games easier, for one, and secondly to just freshen up the logo (if you can call it that).  I used a new design for the "ForTheLoss Games" splash screen in Trophiends and I was hoping to update the site to go along with this new design.  The main reason I'm not going through with the redesign?  Well, I feel like that's just me giving myself an excuse to procrastinate and not work on my game projects, which are far more important.
New Project
So what's my new project since Trophiends is finished?
Well, no big details yet, but I can tell you it's a platformer, it's going to have a story, I'd like for it to implement the Starling API, and it's certainly going to be my most ambitious project to date.  More information at a later date.
While transitioning from Trophiends to this new project, I've spent the majority of my time writing up a design document – jotting down any possible idea as soon as it enters my mind, cleaning up / optimizing my base classes I use for all of my games, and most importantly – drawing concept art.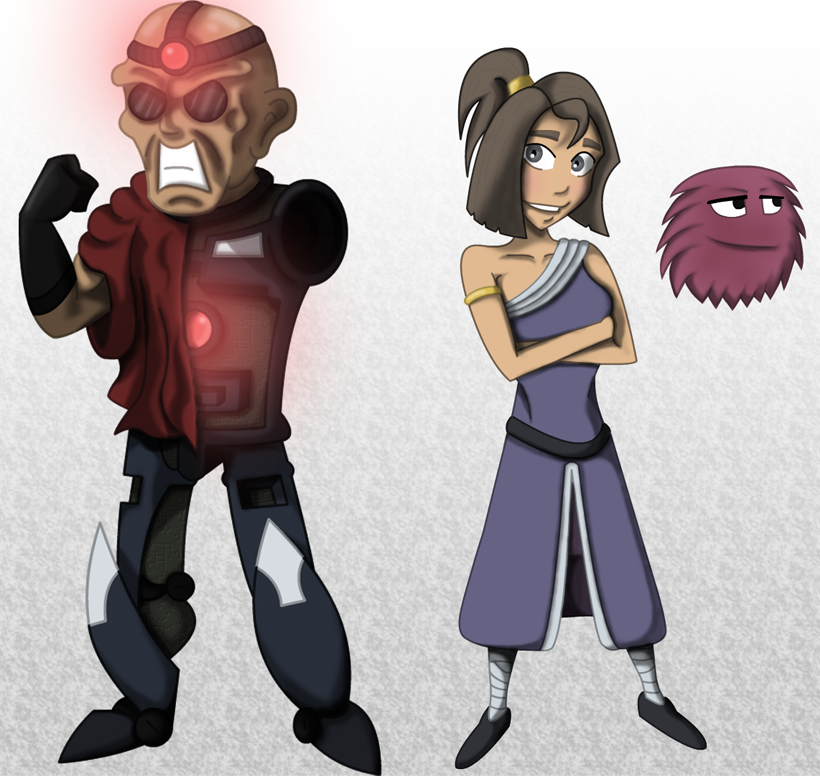 As you can see from the picture on the right, I already have the design of the two protagonists and the main antagonist completed.  Now, of course these drawings are way over-detailed to be used in the game, but I wanted to try something new this time and draw up the characters in detail before designing their in-game sprites.
It took a while, but I think I eventually got the hand of sketching out rough drafts, line-tooling them up / coloring them in Flash, and finally adding the details / shadows in Photoshop.  In the end, I'm very happy with the outcome.
Alright, that's enough from me.  Time to go enjoy some BF3 and get back to work.