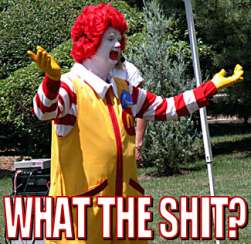 What the shit, Ralph?
Yeah, I've decided I'm going to put development on Hero Dude on hold for a while.  I feel like I'm doing all of this work for it, but at the same time, I'm not giving it the time that it needs.
For one I feel that the game won't be as great as I'm imagining it unless I give myself some time to actually plan it out.  As it is now it's just a generic run-around-and-shoot-shit platformer.  OH BOY WHEN CAN I PLAY?
So yeah, I'm putting that on hold.
Secret Project
Sorry about the lie I told about 1 or 2 posts ago, I won't be able to release the "secret project" game until at least Wednesday, July 21st.  (Most likely Thursday, however.)  It sucks having a completed game for 2 weeks but not being able to release it but hey, that's how the bidding process works.
So yeah, look out for that very soon.
New Project
I had an epiphany last night for a new, small puzzle/skill type game that utilizes the popular Box2D AS3 library.  Today I'll be spending my day playing around with the library and getting to know the in's and out's.  Once I'm comfortable I'll start development on the game and it shouldn't take too long to make (I figure two weeks at the max, the same amount of time it took me to make my "secret project".
So yeah, that's what I'm doing now.
Now you know.