So I figured I would make a post about this, since I thought it was pretty interesting.  Here is an image showing the sprite development I went through trying to find a nice design for the player/boss sprites for Hero Dude.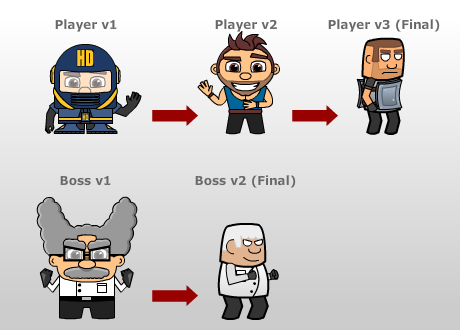 The first two versions of the main character differ pretty greatly.  At first I was thinking I'd just toss the main character into this Mega Man-style suit of armor lookin' thing.  Since I was going for a humorous take on the game, I figured it didn't matter how silly he looked or how many times I stamped his "HD" (Hero Dude) logo on him.
The second and third versions of the main character have more of a resemblance between them.  It looks like I started getting the mindset that he was going to be some sort of a soldier or something.  This becomes more apparent in the third version.
The boss didn't undergo much of a change.  I always knew he was going to be a cliche mad scientist trying to destroy the world or something (lol spoilers).  He kept his white labcoat and gray hair through both versions, I only made him fatter and got rid of his huge hair stacks.  (This was done to preserve the shape of his head/body, which I want to be uniform throughout the game.)
And yeah, that's about it.  Today I'll be getting back to work on Hero Dude.  Mainly working on some gun action today.  I want to start drawing ideas for levels and whatnot.  I already know that 95% of the game takes place on the Boss's flying ship-fort thing.  The other 5% is the player getting to the flying ship-fort thing.
(Trust me, this all makes sense in my head.)