So I thought I'd make a post about Minecraft since it seems to be biggest thing in the world at the moment.  I decided to purchase myself a copy and give it a whirl even though I didn't exactly know what the game was about.  (Honestly I still don't get it.)  I figured since it was a successful indie game it'd be in my best interest to check it out.
I may have become a tad addicted for a few days – just a little.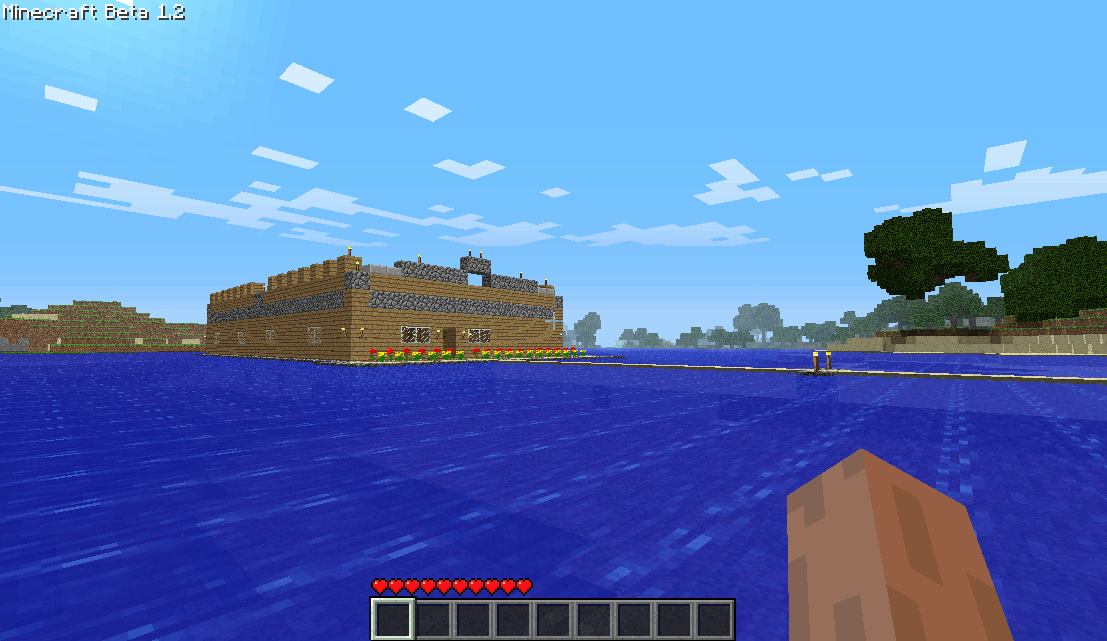 My awesome house.
I still don't get the idea of multiplayer.  All I see are a bunch of people talking to each other about finding lava, whining about losing their diamonds, and asking "who griefed my house?".  However it does get addicting once you start building things.  I don't know why exactly, but it got me hooked for a while there.
This actually leads me to my next topic on "procrastination"…  You see, since I can't play Minecraft and work on my game at the same time – production came to somewhat of a standstill there for a good 3 or 4 days.  It sucks, yes, but I'm getting back into the groove of things.
Don't Panic
And we officially have a title for my top down defense/shooter game – "Don't Panic."  It may seem a bit odd, but it fits with what I have in mind.  It's more of a comedic title/game than anything else.
New Game
Well, it's not technically new.  Hero Dude has been mentioned a lot in the past.  And that eventually led to the game being scrapped due to lack of ideas.  But now that's all changed.  I've always wanted this game to be my main game, the one I make sequels for and whatnot.
Anyway, I had an epiphany earlier today and the game is officially back on.  It's still in the planning stage where I will be doing tons of writing and sketches of things before I dive into actual coding.  (Also I want to finish Don't Panic before I seriously begin anything else.)  Look out for this one, as it is going to be my biggest project ever.
Well that's it for the updates today.  I'll have the new Weekly Game Update up over the weekend.  BYE!