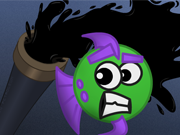 "Oil Spill Escape" (aka my Secret Project for the past four weeks) has been released this morning!  I'm really excited about this game because it truly is a very fun and addicting game.
Play it exclusively on Juggernart.com – Play Oil Spill Escape.
I actually completed the game in about 12 days, which is quite speedy for only my second game ever.  The remaining 14+ days was spent just letting the game chill on FlashGameLicense.com waiting for a sponsor.
Bla bla bla, I'm sure you all care about that stuff, right?
Anyway, maybe I should tell you what the game is about.  (As if you can't tell from the title.)
The idea for this game was actually a result of some accidental collaboration between this person I know friend Paul D'Amora.  You might know him as since he's one of the three commenters on this site.
The game is obviously inspired from the ongoing oil spill in the Gulf of Mexico.  The gameplay itself is very similar to that of the classic "Helicopter Game".  As in, you control a fish trying to escape a cloud of oil by dodging rocks and eating fish.  Sound easy?  Well, it's not.
The objective is to simply get as far as you possibly can and then to compare your score with the scores on the scoreboard.  This is where it gets addicting, trust me.
Anyway, I do believe that's enough rambling from me.  Go play the game and tell me how you like it!