Hey everyone.
Hope you're all having a great Christmas Eve so far.  (Or Christmas if it's the 25th for you.)  I'm sorry about the enormous lack of updates on this blog.  For whatever reason I keep putting it off and never get around to it.
Christmas Defense news…
Christmas Defense was a huge success.  I'm really glad everyone has enjoyed it.  If you haven't played it, check it out (and don't forget to 5 it).  What better days to be playing it than in the middle of the Christmas holiday?
New game updates…
Here are a few screenshots of my upcoming game – still untitled.  I'm trying to think of a catchy one-word name for it which apparently is a lot harder than it sounds.
(Click for non-scaled image)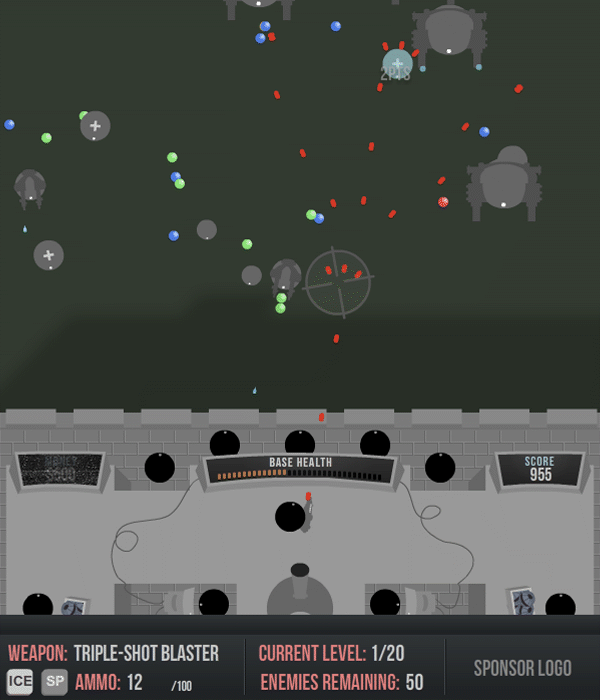 (Click for non-scaled image)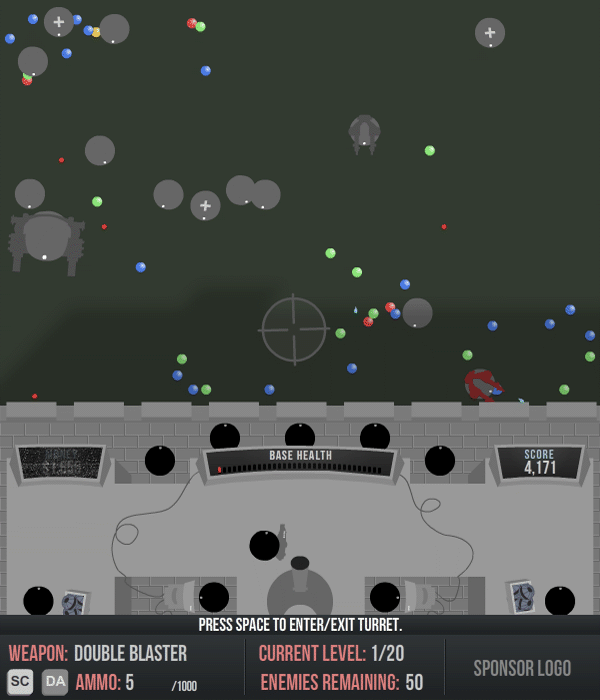 (Click for non-scaled image)
Excuse all of the placeholder graphics, most of what you saw up there won't actually be in the final product.  It's also missing a lot of graphics that I didn't make placeholders for.  What I'm saying is don't judge it by it's looks just yet 😉
All I can say right now is that the game is a shooter/defense game (somewhat like what Christmas Defense was).  There are definitely lot's of differences however (the most notable being the top-down view instead of the side view).  Also I'm taking every piece of advice and criticism from Christmas Defense and I'm working it into this game.  Even with the game barely out of it's prototyping stage it's already fun to play.
Since I have no college to bog me down, I see this being completely done sometime in the middle of January.  I can't predict a release date so far in advance however, the sponsorship process can take anywhere from 2 weeks to 2 months, so we'll see as time moves on.
In other news…
I'm looking to maybe begin getting into Unity development after this game.  Unity3D is one of the most powerful yet easy-to-use 3D game development tools out there.  I've always wanted to get into Unity but I've never had the incentive.
Now that Kongregate is allowing Unity-developed games onto their website, I'm beginning to get a feeling that Unity games may start standing a chance in the Flash-dominated market.  I'm not necessarily interested in entering their contest however, and to  be honest I'm 99% sure I won't be able to have a game ready by the deadline anyway.
Of course if this is to be I'm going to also start learning my way around 3D modeling in Blender.  (I've already begun, actually.  I'm creating some simple 3D models that I will be using in my upcoming defense game.  Simple things like 3D bullets, grenades, gems, etc – it adds some subtle eye-candy to the game.)
Anyway, I hope you all have a great Christmas holiday and I'll see you in 2011!