So after roughly four days of working on a part of this project I thought would take maybe part of one day, I finally have Level 1 completed.  Well, sort of.
It's designed, yeah, but now when I add it to the game, things start to lag more than a fat kid on dial-up playing MW2.  Why?  I really don't have an answer.
I mean, before this, I had somehow (accidentally) gotten a huge 6500×6500 bitmap into Flash (when the bitmap size limit is near 2880×2880 I believe) and added that to the game and there was not even a touch of lag.  However, when I add this drastically smaller bitmap to the stage the lagfest commences.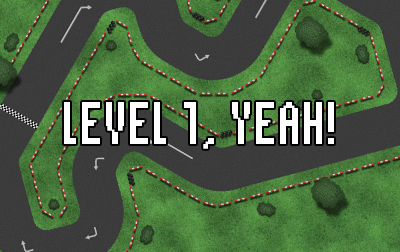 So yeah, now I'm in the process of fixing that.  You can take a peak of Level 1 in the image above.  No big picture, just a little teaser sort of thing.
I originally planned for the tracks to be vastly bigger, but I had overlooked Flash's bitmap size limit.  Upon playing around with ideas to overcome this, I've decided to just go with smaller tracks.
So, yeah.  What's next on my agenda?  Good question.  Tomorrow I hope to God I can get this lag thing fixed.  Once that's done, I'm not going to be adding anything new to the game for a while.  I just plan on going through all the code and optimizing it as best as I can.
In Unrelated News…
The Jets pulled off another amazing win today to land them in the AFC Championships next week.  Dare I say they beat the Colts once again, they're in the freakin' Super Bowl.  Hot damn.
Alright, that's it from me.  It's 12:30am and I'm tired.