So, looks like I'll finally be moving into the world of current-gen consoles.  It only took me four years…
Long story short, I was helping my parents buy an Xbox 360 console online for both my brother and I for Christmas.  Anyway, it arrived today.  It's actually the Modern Warfare 2 Limited Edition one with the massive 250GB harddrive, which I think is pretty cool.  Of course I made sure I wouldn't be without my 360-version of Left 4 Dead 2 so I threw that in the order as well.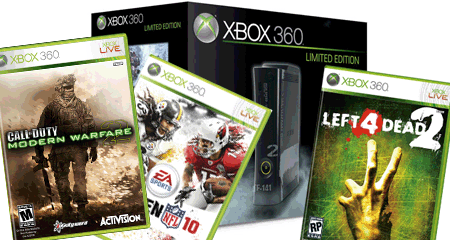 Oh yeah and Madden 10
So yeah, I guess it's almost time for me to see what all the hype is about.  I'm mainly making this post because I know a few of you (read: 3) will be excited by this and will want my Gamertag when I activate it.  It is called a Gamertag, right?  Oh God, I feel like an old person…
As for news about the game, look for that in an upcoming post.  Ha.