"Oh look at Ralph, he's abandoned another blog after promising to update it."
Shut up Eternal.  No I didn't.  I said I'm going to have a more relaxed update schedule on this blog compared to ForTheLose.org.
Anyway, I got lots of stuff to talk about today, so I guess the wait paid off (if you care, I suppose).
Progress Being Made on "Weapons on Wheels"
Yeah, in case you hadn't figured it out yet, the game I'm working on is titled "Weapons on Wheels."  Though the Christmas/New Years holidays definitely put a damper on my productivity, I'm back in the groove.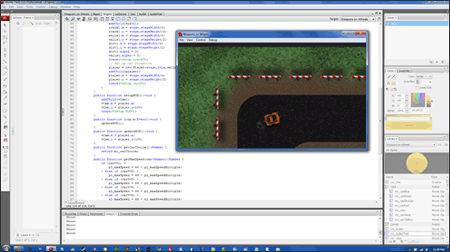 Click image for larger version.
I've spent a good chunk of the past few days smoothing over the current wall of code and adding new features.  In case you don't know, this whole game is a tribute/remake of one of most favorite Sega Genesis games I played when I was younger (and still do today), "Combat Cars" (video).  I swear, I can waste hours playing that game.
Epic Time-Waster, "Captain Forever"
I stumbled across this amazing Flash game from the blog over at MondoManiatrics.  The game is called "Captain Forever" (link).  Basically, you start off as a small one-piece ship out in space.  Your main mission is to collect pieces of enemy ships you destroy, connect them to your ship to make it more powerful, rinse and repeat until you're pretty much unstoppable.  I can't tell you how many hours I've wasted on this game in the past week.  Go ahead and try it out.
Small Side Project(s?)
Today I decided I'm going to start creating some small files to put up for sale on the ActiveDen marketplace.  I figured if I was able to make some good money from the ThemeForest marketplace with my web design nonsense, why not try to make some money with their Flash-based counterpart?  For example, tonight I'm spending my time creating a very nice-looking and functional preloader.  I figure it's worth a shot to see if I can get a few sales from it, and if so, I'll probably make some more similar items.