So it was the vCam that was causing the odd lag issue.  I've learned a valuable lesson the hard way, never use the vCam in Flash games.  So I binned the vCam and am using a much, much, much better approach to moving the screen around.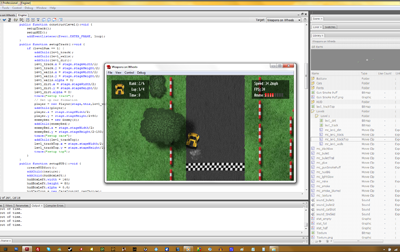 Click to see full version.
That's all I really have to report for now.  I didn't do any work on the game today, took a day off from all the headaches.  Instead I spent it trying to find a decent screen recorder to record a sneak peek of what I have working so far.  (Trust me, this task was more of a bitch than you can even fathom.)  So here, you better enjoy this video.
Tell me what you think!  (Audio may be a tad off sync, mostly because I had to record the video with one program and the audio with another, then try to line them up just right in the video editor.)