Alright, I'm back.  College is over and done with for over a month, so I have loads of free time to work on this game.  As of yesterday, I have begun re-building the entire game from the bottom up.  I'm basically using the code I already wrote but just reorganizing it/optimizing it in correct ActionScript 3 format (with class files and the whole lot).  As of right now this is going smoothly and I can see how this format is going to be incredibly helpful when things start to get more difficult down the road.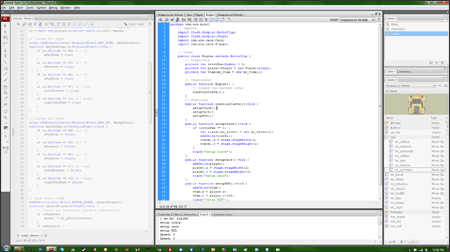 Click picture for full version.
Anyway, so that's being worked on.  In more random news, it snowed like balls over her last night.  Here's a picture I took earlier.  Really wish it could have been like this on Christmas Eve/Day, but we'll see.
Anyway, I'll make another post or two before Christmas, but until then, have a merry Christmas-week!
Also, you keen-eyed bastards should know the title of the game by now.